Having a pet for a couple of hours a week sure is a lovely idea. And it's not too far-fetched. You can volunteer. It's as simple as that. Do good for the community, get some good karmic energy and play with dogs and cats all day.
Okay, well, that's oversimplifying the position; it's not all fun and games. It is serious work in need of dedicated individuals.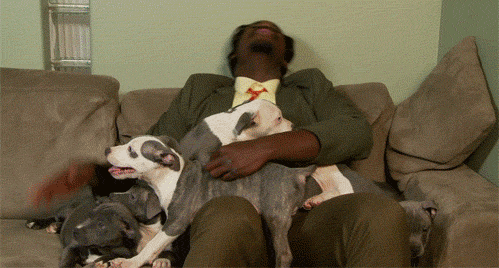 First, where you can volunteer in Palm Beach County:
Central PBC
West PBC County
North PBC County
South PBC
---
Next, what you need to know
At most rescue agencies, there is a critical need for volunteers. Some rescues run almost 100% off of volunteers.
The hours you're needed can vary depending on the organization, but at Peggy Adams, for example, volunteers must commitment to at least four hours a week.
Did someone say, "Puppy cuddler?" Yep. That's kind of think in animal shelters, and volunteers can definitely do that, and then some. 
Animal rescues need help bottle-feeding cats, walking dogs, and yes, picking up poop and cleaning out cages. You can also help by being a shelter tour guide and by showing the pets off to potential adopters.
Another form of volunteering is fostering. As a foster parent, you can learn all about the dog, rehabilitate it if need and provide it with a loving home until the agency is able to find the dog a furever home.
But volunteer positions aren't just about directly helping with the animals. You can help indirectly, too. These organizations are businesses, and it takes a lot of pieces to keep them afloat. If you have skills in marketing, graphic design, photography or customer service, there's a place for the animal lover in you to really help. Without these tasks being filled, finding furever homes for some of these animals would be near impossible.
Remember, volunteering is a serious commitment — almost like getting the actually pet. Not only does the organization take the time to train and trust you, but the animals learn to trust you as well.
Can't get enough? Did you know you that you can turn your pup into a therapy dog?